What is Trade360?
Trade360 is an online broker based in Limassol, Cyprus. It was founded in 2013 and is a registered name under MPF Global Markets Ltd.
Trade360 stands out from most online brokers because of its proprietary "crowd-trading" platform that utilizes research on group behavior patterns. This can potentially reveal market trends before they appear as exchange rates in the market, providing an advantage as it results in an above average forecast of future market trends.
In this review, we will look into how Trade360 operates as well as look at its unique features that separate this online broker from the rest. In the conclusion, we will also determine if Trade360 is a legitimate business or if it follows industry standards at the least.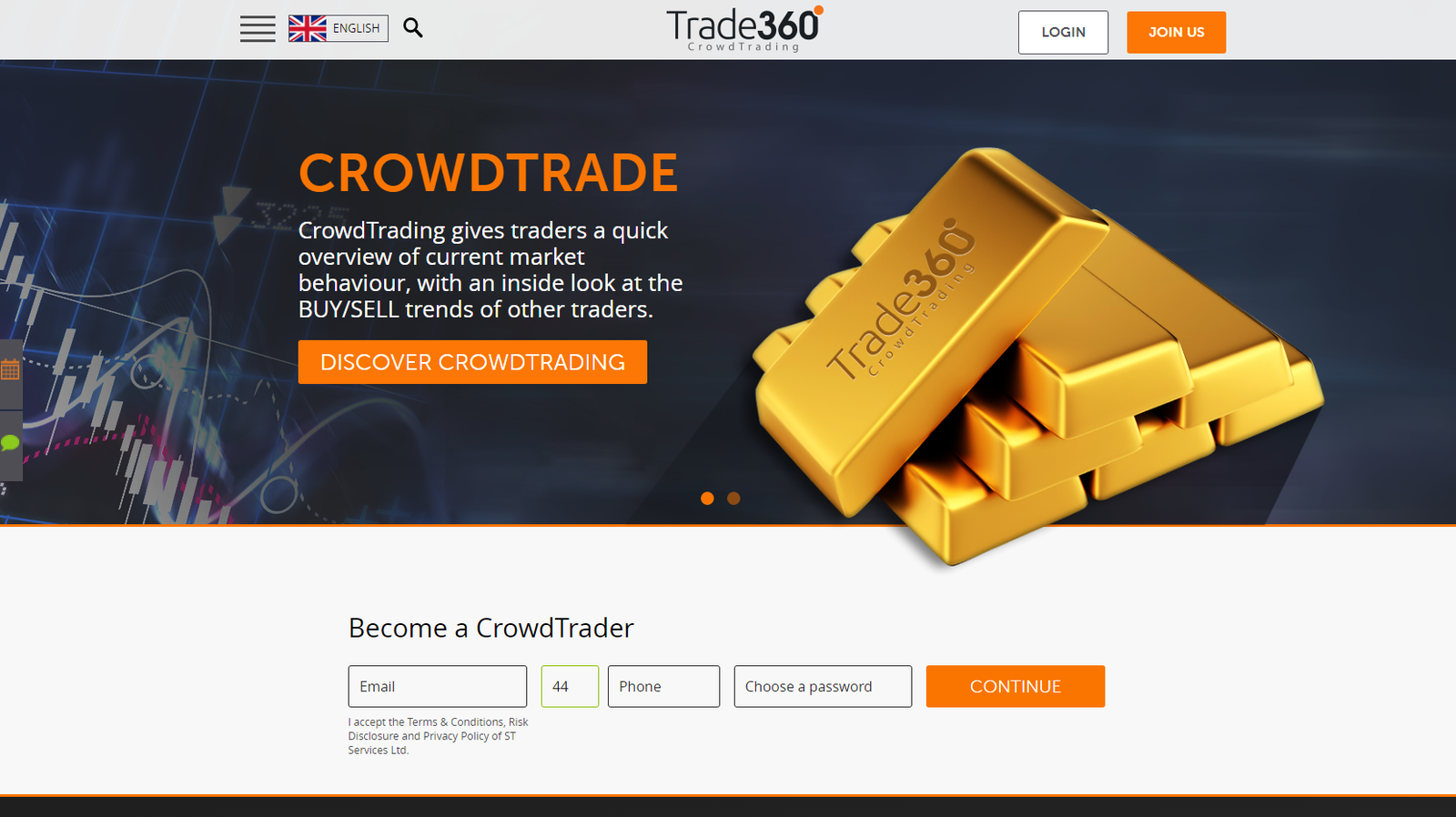 Trade360: Services and Offerings
Trade360's services are available almost everywhere across the globe except in the United States. Its website is available in several different languages including English, Spanish, Italian, German, Turkish, Polish, Arabic, and Dutch.
• Trading Instruments
Trade360 offers its clients a wide variety of ETFs and CFDs as well as major Forex pairs, Indices, commodities, and stocks to trade with.
• Account Types and Offers
Trade360 features two account types – the Standard and the Mini Account.
The Mini Account requires a minimum deposit of $500 and would need a minimum position size of 0.005 pips per lot for every trade. Clients with a Mini Account can invest in over 120 major Forex pairs as well as a wide variety of CFDs and stocks. It offers a fixed spread with the EUR/USD pair going as low as 3 pips.
The Standard Account is the more advanced option for Trade360. It is recommended for more seasoned traders and is a viable option for those who apply scalping in their trading strategy. The Standard Account requires a minimum deposit of $1,000. Clients with a Standard Account can trade with a minimum position size of 0.01 pips per lot for each trade. This account type allows clients to trade over 120 Forex pairs as well as CFDs and ETFs for stocks, indices, and commodities. Standard Accounts offer variable spreads with the minimum spread going as low as 2.3 pips.
However, typical spreads are usually around 2.8 pips.
The maximum leverage for both accounts is 100:1.
In addition, Trade360 offers a demo account where clients can try out the above account types and determine which account would best suit their needs.
Trade360 does not have much in terms of bonuses and promotions. However, the online broker provides first-time clients with a $50 bonus upon verification.
• Trading Platform
As mentioned above, Trade360 uses a Crowd-Trading platform that allows its clients to stay ahead of the game. The platform offered, which is called the CrowdTrader platform, works differently than Copy Trading or Mirror Trading. Instead of automatically copying an individual trader's actions to one's account, Crowd Trading utilizes the concept of sharing large-scale market information to its clients.This means that clients gain access to a live feed that displays real-time market trends and transactions that can be used as indicators.
The CrowdTrader platform interface also allows for clients to easily hold and monitor multiple positions in the market.
CrowdTrader also features an email and an SMS alert system that can quickly update clients about recent market developments as well as crowd sentiment shifts. For security, user funds and transactions are secured by 128-bit, SSL encryption technology.
The CrowdTrader platform doesn't need to be downloaded and can be used solely as a web-based platform. In addition, the CrowdTrader platform comes in mobile versions for Android and iOS devices.
• Payment Options and Fees
Apart from the minimum deposit mentioned above, Trade360 offers a money-back-guarantee made with every additional $100 deposit. This means the higher the additional deposit, the more Trade360 would pay out.
Withdrawal and deposit methods can be made via wire transfers, Visa, MasterCard, Maestro, JCB, DinersClub and American Express. In addition, Trade360 also allows clients to use Skrill and Neteller to fund their account. Trade360 does not charge fees for deposits.
Withdrawal of funds often takes between 3 and 10 business days depending on the method used. The withdrawal process requires a copy of a valid ID, such as a driver's license, passport, or other government-issued identification. In addition, Trade 360 will need a utility bill no more than three months old along with the client's full name and home address. For credit or debit card withdrawals, a clear image of the front and back of the card must be included.
Trade360: Is it safe?
Trade360 doesn't hold back on its safety regulations and does its best to ensure that its clients' fund and best interest are in its top priority.
Based in Cyprus, Trade360's operations are authorized and regulated by the Cyprus Securities Exchange Commission (CySEC) with the license number 202/13. This means that the broker adheres to the industry standards in accordance to the Markets in Financial Instruments Directive (MiFID).
The MiFID is an EU-based legislation that enforces safe business practices for financial investment companies in Europe.
Trade360: Conclusion
While Crowd Trading isn't for everyone, Trade360 is one that provides a unique social trading experience that many traders look for. Its CrowdTrading platform (albeit a little confusing to navigate through) can definitely be a valuable tool for real-time market analysis.
However, one of Trade360's biggest disadvantages is the lack of the industry-standard MetaTrader platform as well as its somewhat cumbersome withdrawal process. Also, the spreads offered are wider than most of its competitors, which can highly affect profitability for the more active of traders.
Otherwise, if you are looking for a new and simple trading experience, or if its platform piques your interest, Trade360 can be a safe bet to choose.